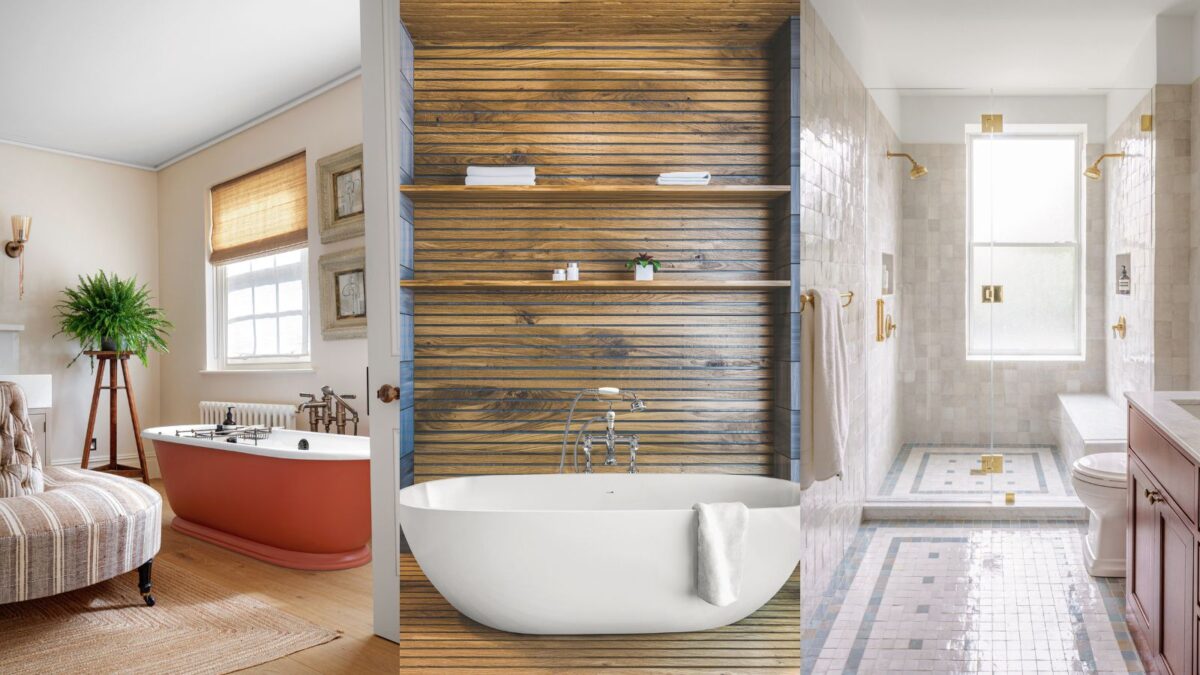 Dreaming of a bathroom retreat that looks straight out of a luxury spa? The latest bathroom fitting trends make transforming your space into a stylish, contemporary oasis easier than ever. Out with the old, dated fittings and in with innovative designs that combine form and function.
It's time to upgrade your bathroom to a soothing, invigorating space you're excited to spend time in each day. From intelligent toilets and touchless faucets to nature-inspired materials and metallic glamour, bathroom fittings today offer endless possibilities. Find the perfect fittings to establish the mood, aesthetic, and functionality you desire.
Natural Materials
Natural materials like wood, stone, and wicker are hugely popular in bathroom design right now. These natural textures add organic warmth and sophistication to your bathroom. 
Wooden vanities crafted from oak, walnut, or teak make a stunning style statement. The wood grain not only looks elegant but also hides fingerprints and water spots. Go for floating wooden vanity designs for a modern, minimalist look. 
Stone vessel sinks carved out of marble, travertine, or granite also look refined and luxurious. Stone adds natural texture and makes an eye-catching focal point in your bathroom.
Rattan and wicker baskets provide charming storage options for rolled towels, bath mats, and other bathroom essentials. They bring in natural flair without looking out of place.
Metallic Finishes 
Metallic finishes like brass, gold, nickel, and copper make a glamorous addition to bathrooms. These shiny surfaces add a touch of luxury and give your space a sophisticated, updated look.
Brass fixtures have made a significant comeback and lend a timeless, vintage appeal to bathrooms. Brass faucets, shower systems, towel rails, and cabinet hardware are hugely popular. The warm, golden sheen of brass pairs beautifully with different styles.
Matte black and nickel finishes also look refined and modern. Try mixing metallic finishes for a more eclectic, glamorous look. Using metallic wallpaper or accents as well as fittings is a gorgeous way to embrace the trend.
Colorful Fittings
Bold, colorful fittings are a big bathroom trend that adds personality and flair to your space. Vibrant hues like emerald, navy, and eggplant bring drama, while muted tones like powder blue and sage green create a soothing sanctuary.
Make a style statement with a colorful sink or bathtub as your focal point. Or opt for colorful faucets, showerheads, mirrors, and accessories as fun pops of color. Match your fittings to your color scheme or contrast them – either way, colorful fittings give your bathroom a stylish, contemporary edge.
Black fittings and hardware also make a bold, dramatic statement. Pair them with light, neutral tiles for a striking look. Matching black fittings throughout your bathroom creates a sophisticated monochromatic scheme.
Streamlined Storage 
As bathrooms continue to expand with spa-like features, storage has become a key consideration. Streamlined vanities, cabinets, and shelves keep all your bathroom essentials organized while maintaining a clean, clutter-free aesthetic.
Floating vanities with hidden storage create an airy, opened-up space. For a contemporary look, opt for handleless drawers and doors with touch latches. Built-in or wall-mounted cabinetry also conceals clutter.
Open shelving provides handy display space for rolled towels, candles, and other accessories. Glass shelving maintains visibility while keeping things neat.
Freestanding cabinets and hampers with woven, rattan, or wood textures add warmth while providing storage. Under-sink organizers on wheels let you neatly tuck away toiletries. 
Smart storage solutions allow you to create a bathroom that looks sleek yet functions efficiently.
Smart Technology
Smart technology is upgrading bathrooms in exciting new ways. Touchless faucets turn water on and off with just a wave of your hand. You can also control your bathroom settings, like lighting, music, and shower temperatures, from your smartphone or voice assistant.
High-tech toilets offer personalized cleaning settings, heated seats, built-in nightlights, and more. Digital shower systems let you program your perfect water temperature and pressure. 
Mirror TVs elevate a mundane necessity into a multifunctional feature. Steam showers infuse your daily routine with spa luxury.
Smart tech allows you to customize and automate your bathroom for the ultimate convenience. Integrating it seamlessly into your stylish décor prevents a high-tech bathroom from feeling cold.
Spa-Like Features
As we seek sanctuary in our homes, bathrooms evolve into relaxing spa retreats. Luxe fittings that mimic a spa experience help create your own private oasis.
Transform your shower into a rejuvenating hydrotherapy retreat with multiple showerheads, body sprays, and rainfall showerheads. Custom showers with a built-in bench provide space to unwind truly. 
High-end shower systems simulate spa therapies like steam, aromatherapy, chromotherapy lighting, and more. Luxurious yet functional fittings elevate ordinary routines into sensorial experiences.
Freestanding bathtubs make lavish, sophisticated statements, especially when paired with waterfall faucets. Heat, bubbles, and massage settings offer in-home hydrotherapy.
Design elements like stone surfaces, greenery, soft lighting, and artwork cultivate a relaxing ambiance. Your bathroom becomes a sanctuary for self-care moments.
Sustainability
Sustainability is a growing priority across design, and consumers are seeking eco-friendly options for bathroom fittings. Options include low-flow toilets and faucets that conserve water, as well as ENERGY STAR-certified appliances that reduce power use. 
Many brands now offer fittings made from recycled materials. Look for options that are durable and aesthetic, not disposable. Natural stone and wood are more sustainable alternatives to man-made materials.
Ultimately, creating a bathroom that will stand the test of time with quality fittings you won't need to replace frequently is key for sustainable design. Focus on classic styles in finishes that can be easily cleaned and maintained.
Final Thoughts
The latest bathroom fittings offer so many options to create a stylish space catered exactly to your tastes. Focus on choosing durable, high-quality pieces that will last vs. temporary trends. Integrate smart tech seamlessly and invest in calming spa elements to enhance daily rituals. 
Aim for a bathroom that reflects your personality and supports your well-being. With an endless array of possibilities, you're sure to find fittings that transform your bathroom into a luxe, contemporary space you'll love spending time in.
Related posts